COMMEMORATING THE 112 TH NAVAL CONSTRUCTION BATTALION'S 60TH ANNIVERSARY OF COMMISSIONING CAMP PEARY , VIRGINIA
29 JULY 1943

WW II Seabee Anecdotes
Birthday of the SeaBees
The Seabees were officially founded on 5 March 1942 and are known throughout the military for their capability to travel the seas as Sailors, build as Constructionmen, and fight alongside the Marines.
U.S. Naval Construction Battalions have the singular distinction of participating in every amphibious operation of the Pacific campaign, and served with every branch of the U.S. armed forces. Beginning at Bora Bora and Guadalcanal , they kept pace with the Army and the Marines and splashed ashore with the first occupation troops in Japan .
The Fighting Seabees of World War II
By CE1 Robert A. Germinsky, USNR
Formally organized in March 1942, the Naval Construction Battalions (Seabees) arose from the military's growing need for base construction, primarily in the Pacific theater. Rear Admiral Ben Moreell, chief of the Bureau of Yards and Docks, realized that when war came, civilian construction workers, who were doing the bulk of the Navy's overseas building, had no place in a combat zone. By international law, these workers could not be armed, had no way to defend themselves and had to rely on the Navy for protection.
Moreell's vision of civilian construction workers trapped in a combat zone tragically came true at Wake Island . The workers, caught there when war broke across the Pacific, could not be evacuated from Wake. They remained on the island to the end. Those who weren't killed were taken prisoner. Physically able workers were forced to complete their projects and then maintain them. Later, these civilian construction workers were executed by firing squad even though they were never armed, clearly were not spies and posed no threat to the Japanese garrison on the island.
In light of these events, Moreell was finally given the go-ahead to form a military unit composed of construction specialists who would also be able to defend themselves against attack, and hold and defend the construction site.
Drawing from the ranks of virtually every civilian construction specialty, the first battalions began forming and training at Camp Endicott , Davisville , Rhode Island ("The Original Home of the Seabees"). The Seabees take their name from the first two letters of the words "construction battalions" (CBs). They even came up with their own symbol: a bee in a sailor hat holding a Tommy gun and assorted tools in his many "hands." The Seabees were unique in that Civil Engineer Corps officers were placed in command of the battalions and regiments, rather than line officers (officers who can command ships). This was a first in Navy history.
The first organized Seabee battalion deployed overseas to Bora Bora in the Pacific, where it began construction of a fuel tank farm. The first Seabee unit to debut in a combat zone did so on Sept. 1, 1942 , when elements of the 6th Naval Construction Battalion went ashore at Guadalcanal . Using mostly captured Japanese equipment, they finished Henderson Field. This work was accomplished under trying conditions, not only from the enemy, but from the weather as well. Fighting rain, mud, sniper fire, artillery and bombing, the field was finished and maintained by the Seabees.
After Guadalcanal , Seabees took part in every island invasion in the Pacific. They could be found building airstrips, roads and camps within hours of the invasion's start, quite often working while under fire. Eventually, the Seabees participated in every theater of operation in World War II. In Europe , their greatest construction project was the building of the artificial harbor at Normandy , immediately after the invasion. In the Pacific, the timely and efficient construction of the giant B-29 Airbase on Tinian , Northern Marianas is the SeaBees Crown Jewel.
As a new unit composed of specialists, the Seabees were unique not only in their skills, but also in their ages. Many were well past draft age, and all were working in critical civilian occupations that would defer them from serving, even if they were of draft age. Nevertheless, these individuals gave up their well-paying civilian jobs and deferments, and volunteered to accept the hardships and sacrifices of military life in the name of patriotism and the desire to contribute directly to America 's war effort.
While the average age of a Marine rifleman in World War II was 19, the typical Seabee was 34. This gave rise to one of the Marines favorite expressions: "Be kind to a Seabee, he might be your father." It seems that the "kids" in the Marines couldn't help but have fun at the expense of the "old men" building and fighting by their sides. Perhaps a truer expression of the Marines' feelings came from a sign they erected on Bougainville : "So when we reach the 'Isle of Japan' with our caps at a jaunty tilt, we'll enter the city of Tokyo on the roads the Seabees built."
In 1943 young Marines were trained to fight – 250,000 Seabees already knew how to fight.
Using their specialized construction skills learned as civilians, along with military and combat skills taught by the Navy, Seabees fought and literally "paved" a colorful trail across the battlefields of World War II. No problem was too big to overcome, and their ingenuity as well as their individualism became legendary.
Seabees were not generally impressed with rank; a primary reason being that most Seabees were quite a bit older than many of the officers they encountered. One night on guard duty, so the story goes, a Seabee saw someone approaching his post. "Who goes there, friend or foe?" came the challenge. "Friend," came the reply.
"Well, advance friend, and come on over here," said the Seabee. The individual approaching the post asked, "Do you know who I am?"
"Nope," replied the 'Bee. He was told, "I'm the admiral commanding this operation."
"Well," said the 'Bee, mulling this bit of information, "that's a pretty important job, Bub, don't louse it up."
One Pacific commander summed up his Bees this way: "They're a rough, tough bunch of men who don't give a damn for anything but getting the job done, the war won and going home."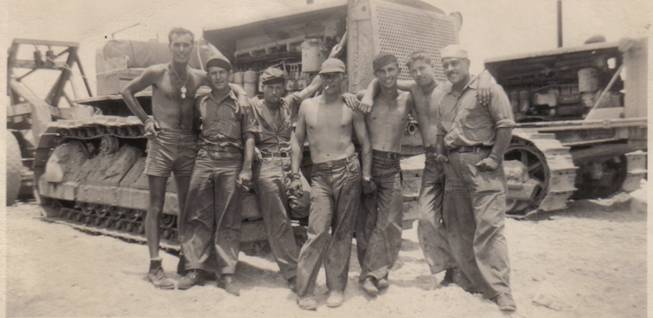 112 th Seabees on Tinian 1945, Clifford Imler far left,
Whether tapping underground springs for hot water for showers and cooking, rigging a method for hauling coast artillery guns up mountains, repairing bomb-damaged runways under fire, or putting admirals in their place, these "'Bees of the Seven Seas" proved day after day that their motto "CAN DO" was not just a motto, but a way of life.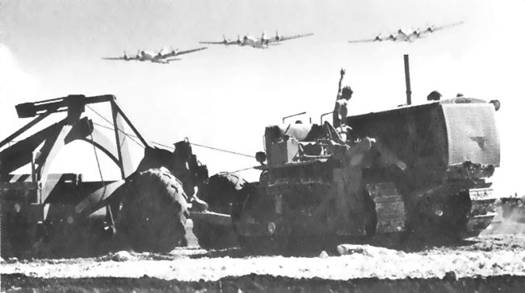 "Seabee Salute" , Tinian 1945
Okinawa Seabee Commendation from Marine Colonel Mel Haas
AIR BASE COMMAND
AWASE AIRFIELD ( Okinawa )
NAVAL AIR BASES #3256
16 August 1945
To: ............. All CBMU #624 Personnel,
............. To the officers and men of the finest Maintenance Unit in the Navy, I wish to both say good-bye and to express the pleasure and privilege it has been for me to know you, work with you and live among you.
............. Never have I personally been treated better anywhere under any circumstances than I have been by everyone in 624 on Okinawa .
............. You have all measured up to the finest traditions of the American Navy, and indeed you have created some new traditions, of which the Navy will always be proud. The Sea Bees and Maintenance Units have contributed largely to our remarkable victorious march to total victory in the Pacific. It is safe to say that you, and the men and officers of your corps, have by their loyal, faithful, enthusiastic hard work, amazing ingenuity and unparalleled team work, not only took a major part in our ultimate victory but actually shortened this war by many, many months, thereby saving untold thousands of American lives.
............. You in 624 were privileged to be in on the final battle that ended for once and all the hellish dreams of world conquest by the Jap Empire. Okinawa will go down in military history as one of the great and most decisive in all history.
............. You played a vital part in that great historic battle. In all the military annals there has never been anything like the organization and work of the Sea Bees.
............. Your courageous, tireless and magnificent work will be remembered as long as there is American history.
............. Your work, from the beginning on this island, made it possible for the Marine planes to fly in the vital defense of Okinawa . You were as much a part of that heroic air defense as if you flew the planes yourselfs (sic).
............. I am proud to have had you in my command, and consider it a high privilege to have been associated with you.
............. It is a high honor to call each and every one of you - "Shipmate".
............. I leave you now for other work to which I have been called, but I will always consider myself part of 624. I am hereby assuming a new title.
............. Good-bye, good luck, and hopes that you will all be home soon.

.............................................................................. Affectionately,
................................................................ A Marine Sea Bee.
.............................................................................. Mel Maas
.............................................................................. MELVIN J. MAAS,
.............................................................................. Colonel , U.S. Marine Corps Reserve,
.............................................................................. Air Base Commander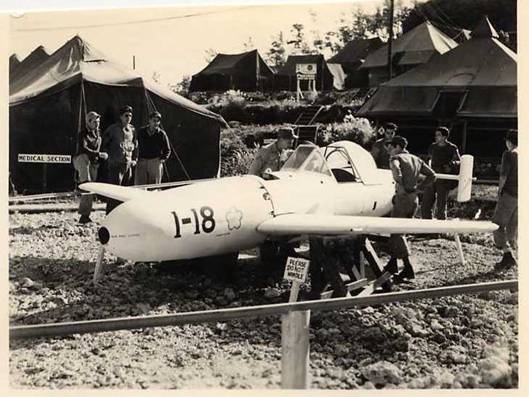 Japanese "Baka" bomb, Okinawa 1945
Naval Construction Demolition Units
Navy SEALs trace their history back to the SeaBees at the beginning of WWII. SeaBees were the Naval Construction Battalions from whom the NCDU's drew their volunteers.
SeaBees were a good source of men since they had already been trained in the fine art of demolition.
SeaBee swimmers preceeded invasion forces usually swimming in under cover of darkness the night before invasions. Clad only in swimming trunks and equipped with a USN Mark1 knife, these athletic SeaBees provided valuable information about enemy shore and landing defenses.

NCDU's distinguished themselves quickly during Normandy and other such amphibious assaults where they blew a path for the Marines.

Towards the end of WWII NCDU's were consolidated into UDT's, which saw action in every corner of the Pacific. They often left signs ashore for the Marines that read something like, "Welcome, U.S. Marines" to play on the Marine's pride of always being the first ashore.

Then in early 1962, President John F. Kennedy created the U.S. Navy SEAL's. Experts in se a, air and land operations, USN SEAL's were capable of meeting the enemy on his own turf using unconventional tactics.
SEALS to this day live by these two words:
CAN-DO

Brothers in Both Theaters
Thank you for the opportunity to recall my experiences from 1943-46 in WW2. I was 18 when I joined the U.S. Navy in June 1943. I was a Hospital Corpsman attached to the 112th Naval Construction Battalion (Seabees). Our boot camp training was at Camp Peary on the James River near Williamsburg , VA. , clear across the country from where I lived in Los Angeles ! I was homesick very quickly.
Among my first memories was marching on 90+ degree days in mid summer for over 8 hours a day or until you dropped from heat exhaustion. After boot camp, we went to Eastport , ME where we took over an old National Youth Administration (NYA) facility and converted it into a Naval Station. It was October and snow was already falling in the most easterly part of the US . We were the first sailors these Mainers had ever seen; they were still using crank telephones. I have many memories of northeastern Maine ; it was a very poor area, but exceedingly beautiful.
From Camp Lee Stephenson in Maine, we were shipped to Port Hueneme near Oxnard, CA. and I was much colder standing the midnight watch (2400 to 0600 military time) when the fog rolled in than I had been in Maine. After 3 more months of training, we were shipped to Island X which turned out to be Oahu , HI . I was detached from the Seabees and assigned to the Kaneohe Naval Air Station on the windward side of Oahu where for the first 5 months I was Assigned to the bakery and learned to make bread for 5,000 sailors and fry donuts. I was in the bakery on June 6th when our forces landed at Omaha Beach in Normandy , France .
I suspected that my brother, Staff Sergeant Mort Gaines with the 30th Division would be part of the invasion force and, indeed he was, having gone ashore in the third wave at Omaha Beach . He was at the break through at St. Lo and fought in 5 major battles in France , Belgium and Germany . His Reconnaissance Troop was the first to enter Germany at Aachen . They fought their way across Germany to link up with the Russians at the Elbe River . He was my personal hero and this past May he celebrated his 89th birthday.
After a stint in the Naval Air Station Hospital where I trained to be a Corpsman. I rejoined the 112th Seabees and we shipped to Island X in February 1945 which turned out to be Tinian in the Marianas Islands . While on the voyage there, we listened to Tokyo Rose play all the 1940's Big Band Music in the hope our nostalgia would convince us to return home. She wasn't successful. The first night on Tinian , we dug foxholes, but I volunteered to man the sick bay tent and got to sleep on a folding cot. I was really sorry, I had volunteered because I was never so scared in my 18+ years. Every time one of the tent flaps moved in the breeze, I was afraid that a Japanese soldier was getting into the tent with a knife to slash my throat. I kept my carbine loaded with the safety off and was relieved when the sun came up the next morning.
While stationed on Tinian , I watched the B-29's depart to bomb Japan and many returned with portions of their planes riddled from flack and some ran out of fuel as they touched down on the landing strips the 112th Seabees had constructed. While we didn't know it at the time, we were on Tinian when they delivered the first atomic bomb that ultimately was dropped on Hiroshima . We knew something big was in the wind because of the extra security around some of the ammunition locations.
My memories include being in the hospital during the battle for Iwo Jima and seeing the brutally torn up bodies of the Marines who were brought to us for care. Many were given beds in the hospital as they came in only to be dead by morning. This scene is embedded in my mind, I remember my brother's first letter that arrived while I was still on Tinian ; it took over a month to reach me half way around the world. I still have it.
From Tinian we were shipped to another Island X which turned out to be Okinawa where the 112th Seabees built airstrips near Naha to bomb Japan which was 300 miles north from where we were. We experienced nightly Kamakazi air raids and watched as Japanese suicide pilots dive bombed ships in Yonabaru Bay (later named Buckner Bay ) We were there until the war ended and we lived through one of the worst typhoons that ever hit Okinawa . On November 1st, we boarded a Victory ship, the USS St Mary for the trip back home. I'll never forget steaming under the Golden Gate Bridge and all of us throwing our white hats in the air. Taken to Treasure Island for processing for a 30-day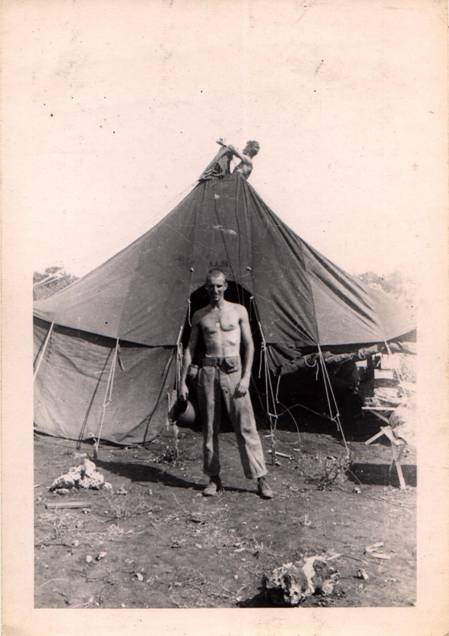 112 TH Seabee Corpsman Richard S. Gaines, Tinian 1945

Rehabilitation leave home, my first stop was the galley where I ordered 6 eggs, over easy and a quart of FRESH milk; it was my first taste of real eggs and milk in nearly a year! Oh was that good.
Weighing only 120 lbs. soaking wet, I went home to Los Angeles where for the next month my mother fed me that good home cooking until I gained back some of the lost weight. After my leave I was reassigned to the USS Vicksburg, a light cruiser in Los Beach Harbor and stayed on board until my discharge at the end of February 1946. On March 1st, I re-enrolled at UCLA from where I eventually graduated and where I met my wife of 53 years, May Belle.

Sincerely,
Richard S. Gaines, California
112 th NCB Corpsman

The Seabee Prayer
Eternal Father, strong to save,
Whose arm hath bound the restless wave,
Who biddest the mighty ocean deep,
It's own appointed limits keep.
O hear us when we cry to thee,
For those in peril of the sea.
Lord, stand beside the men w h o build,
Give them courage, strength, and skill.
O grant them peace of heart, and mind,
And comfort loved ones left behind.
Lord, hear our prayer for all Seabees,
Where ere they be - on lands or seas.
SeaBee B-29's
U.S. Naval Construction Battalions were attached to, enabled and supported military operations of every branch of the United States Armed Forces in WWII. The 6 th Naval Construction Brigade's relationship with the Army Air Corps at Tinian was especially close.
Not long after the arrival of the B-29's on Tinian , a special comradeship developed between SeaBees and Airmen. Many SeaBee Battalions would "adopt" an aircraft by officially painting their logo and name on the B-29's nose. The quality of life for the crew of the plane improved considerably because the SeaBees provided the crew of "their" SuperFortress with better Quonset huts, washing machines, better mattresses, ice cream and many other comforts of life. The SeaBees in return were personally represented in the B-29 raids on the Japanese homeland.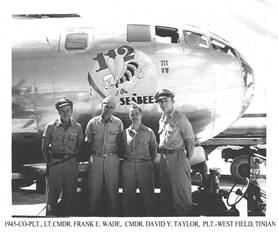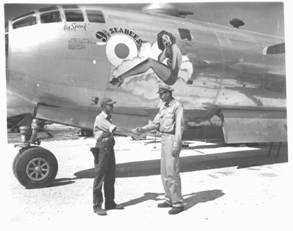 Jap Sabotage on Tinian
After invading Saipan in June 1944, the Marines assaulted Guam on 22 July and Tinian on 24 July. The Navy had shelled the harbor and other defense installations for several days. When the initial landings were made on the northwest corner of the island a tank battle developed in the fields west of North Field. The Japs retreated to the southeast and made their final stand on the high ground on the southern tip of the island. Tinian was declared "safe" by the Fourth Marine Division on 2 August 1944 .
Or was it . . . ????
During the night of 30 January 1945 thousands of pounds of TNT exploded near the center of Tinian , jarring and shaking the ground all over the island and waking everyone asleep. Several Marines were killed in the terrific explosion which authorities believed to be the result of sabotage by Jap soldiers still at large.
The Thirtieth Naval Construction Regiment
The Thirtieth Naval Construction Regiment was first established in 1944, on Saipan after the invasion of Tinian . The 30 th NCR, consisting of the 9 th , 38 th 110 th , and the 112 th Battalions, moved to the Marianas and was known as the "Airfield Construction" Regiment of the Sixth Naval Construction Brigade.
Elements of different Battalions assigned under the regiment landed with the assault units of the 4th Marines for the invasion of Tinian . The initial invasion tasking was rebuilding a captured Japanese airfield for use by Naval aircraft, construction for roads, water facilities, camp hospitals, tank farms, ship moorings, pipelines, and drainage and sanitation lines. The construction of North Field and West Field from which B-29 bomber strikes were launched against the islands of Japan kept the Regiment battalions busy from November 1944 to May of 1945, and it was inactivated on Tinian , Marianas in October 1945.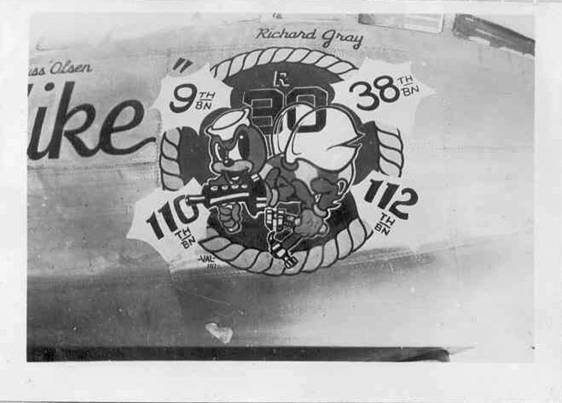 Thirtieth Seabee "Airfield Construction" Regiment B-29, Tinian 1945
A Seabee Poem
We work like hell, we fight like hell,
And always come back for more:
The Navy's advance base engineers
On many a foreign shore.
On half the lousy islands
From here to Timbuktu ,
You'll find a hive of Seabees
One hell of a fighting crew.
The admiral just dropped around
To chat the other night,
He said, "Now boys, I know you work
But you've also been trained to fight."
"So if there's any trouble, don't stop
To put on your jeans;
Just drop your tools, grab up your guns
And protect those poor Marines."
Author Unknown
Marine Major Tells
Battalion of Seabees
'Over-worked, Underfed, Cussed at
. . .The Drinks Will Be On Me'
By SGT. JOHN L. DUKE
Stars and Stripes Staff Writer
OKINAWA - "The drinks will be on me," said the marine to the Seabees, and that offer - good anywhere at any time - topped off one of the most unique commendations ever received by an American unit..
The marine was Major C.C.Campbell, commander of marine air base here. The object of his admiration was a Naval Construction Battalion Maintenance unit. His citation read:
"You have seen this airfield grow from a wrecked mudhole to a fair-to-good all-weather airfield. You have enjoyed much company; mostly Japs. You have fought against the elements; lack of manpower; lack of equipment; in general, the lack of the facilities that make a job pleasant and easily done.

"You have been shelled, bombed, rain-soaked, wind-blown, dusted, disgusted, over-worked, underfed, cussed at and praised.

'The dirtiest details'
"You have been given assignments to unaccustomed duty. You have been given the dirtiest details and work that should have been performed by others; you have slept in mud and filth, if and when you got a chance. You worked on your own and improved your surroundings after everyone else's had been completed, and in most cases by you.

"You worked all night on the air strip for the first flight of the group against the Japs, and got the hell bombed out of you for your pains. You have handled every drop of gasoline used on this airfield, and you did much of it under shelling and attacks of the enemy.
"You have helped with the ammunition, which was not your duty. You kept the field lighting operational, when it was bombed or shelled out, and without waiting for the end of the attack. You put other people's galleys and facilities into operation when you should have been working on your own.

'Assisted others'
"You've given your all to the success of the operation on this island. You've assisted others in gaining medals and glory, much of which would not have been attained without you.

"Heroes? Hell, no. Just Seabees doing the job for which you enlisted, and wanting to get back to normal living as soon as possible.

"Telling you in words how much I appreciate the ...work you have done without complaint is beyond my limited vocabulary... I shall consider it an honor for any man of your unit, who, if he sees me, wherever it may be, to step forth and offer a handshake. The drinks will be on me."
OUR SEABEE FRIEND
Bob Casseday/Hale Crew/RH Blister Gunner

One day while we were still housed in tents, Frank Colson, one of our crewmen, asked if it was okay to take a couple of bottle of our own brewed RAISIN JACK drinking liquor with him while visiting a friend in the Seabees that he had just met. I said, "Sure, go ahead and take along a couple of bottles".

Later in the evening, when we were in our sacks, we heard Colson say,"Wake up you guys and meet my friend". We lit one of our beer bottle lamps to make some light in the tent. Colson introduced us to his Seabee friend, *Chief Petty Officer Dan Toner. I asked Dan if he was from Walla Walla , Washinton. He said that he was. I asked him if he lived in the same block as M.P.Casseday in the early 1920's. Dan relied that yes he was a neighbor of Mr. Casseday. M.P. Casseday happened to be my uncle. I remembered that I had met Dan when I visited my cousins in Walla Walla . I remembered Dan from those visits. I always seem to meet someone from Walla Walla , no matter where I went.
Dan Toner became a good friend of our crew. He was the commissary steward of his naval unit and was in charge of the Seabee mess. When Dan knew that we were going on a mission, he would come to our hardstand in a Seabee jeep with special food for us. There would be canned turkey, canned pineapple, and other goodies. His food sure beat the peanut butter and jelly sandwiches that the Army mess hall furnished for flight lunches. When we returned from a mission, Dan would visit our Quonset with a five gallon can of ice cream which we shared with the other crews. On occasion, I ate at the Seabee mess. Without a doubt, they served the finest food on the island.

One of the scarcest commodities on Tinian was ice. The hot, tropical weather made a cool drink a luxury. Our Seabee friends had an ice machine obtained from somewhere. We learned that there was nothing that the Seabees couldn't make, fix, or procure. Dan gave me a key to their ice machine which was kept locked at all times. Its product was very valuable to us. We had an insulated five gallon container in our Quonset in which we kept our ice, cokes, RAISIN JACK, and best of all-lime aid. Limes grew on the island and were plentiful. We enjoyed this special treat.
After the war, Dan visited my home and we talked about our Tinian experiences. My friend Dan passed away in 1970.
* Dan G. Toner Chief Commissary Steward - 112 th SeaBees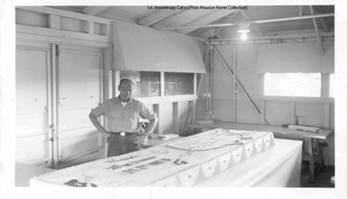 The Fighting Seabees
And this unknown Seabee answers the ultimate "Who's First?"
The Navy needed fighters and they needed engineers,
So they organized the Seabees to pin back Nippee's ears,
They took welders, riggers, boiler men, cooks and bakers too;
They signed them in the Navy, which was the thing to do.
With Tommy guns and rifle, we Seabees learned to shoot;
We used a big machete knife, and other things to boot.
They taught us how to march and drill, they taught us how to dress;
We learned Commando tactics and we bucked the line at mess.
We learned the Navy lingo; we called it "deck" and "swab";
We learned just how to "knock it off" like any other gob.
They taught us all these many things in thirteen weeks or less,
And what they didn't teach us, the rest we had to guess.
We finished out our training and we sailed to Island X,
We had all our equipment stowed below and on the decks.
The Japs they held the island when at last it hove in sight;
We knew that they were ready, so we got prepared to fight.
We landed under heavy fire, and there was plenty hell,
It kept us busy most the day, just dodging every shell.
We soon had wiped the Nippees out and then we went to work,
Each Seabee did his duty – not a one was seen to shirk.
We built a mighty landing field, a barracks and a dock,
About a hundred miles of road we made from solid rock.
We got things finally squared away, 'twas pretty to be seen,
Then we went back to the beachhead, where we saw our first Marines.
They had followed in behind us, though they said they got there first;
We had everything completely fixed, they could even quench their thirst.
From the Halls of Montezuma, to the shores of Tripoli
It used to be the Leathernecks, now it's all Seabees.
And when we reach the Pearly Gates and stand at Heaven's scene,
There'll be a Seabee waiting there to greet the first Marine.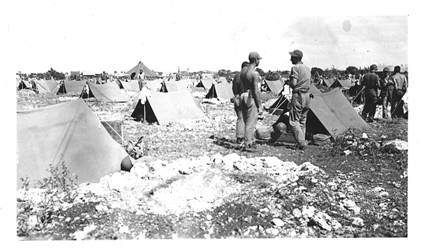 112 th NCB First Camp on Tinian Dec. 1944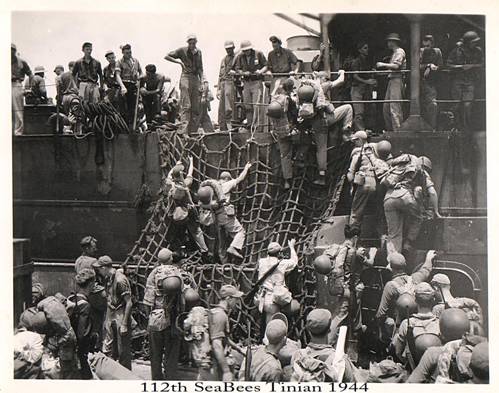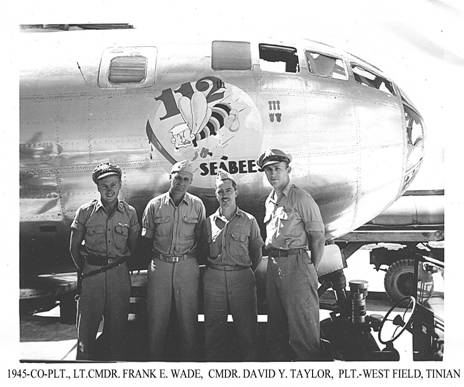 The "112 th Seabees" B-29, Tinian 1945
Compiled by Edwin E. Foster, 112 th NCB Historian, Cleveland , Ohio , 29 July 2003 ; in salute to all Seabees past and present where ere you may be – on lands or seas.